Following the introduction of our Level Up and Ultimate packages, we introduced the option to change your Membership from your existing package to either of these new options*. Visit our support article linked here for more information on our new packages.
Changing your membership package via your Parent Account converts the remaining time in your current billing period to the package of your choice.
After changing, your subscription will renew for the package you've switched to.
Please Note: There are a handful of scenarios where the option to upgrade a Membership will not appear on your Parent Account:
Family Memberships (When 2 or more are purchased at the same time)
Group Memberships
Teacher Referral Memberships
Memberships purchased through Apple
Need help?
Please feel free to click Submit a request at the top of this page if you'd like help upgrading!
Upgrade Instructions:
1. Log in to your Prodigy Parent Account. If you need help, visit the article linked here.
Don't have an account?
Visit the article linked here for help!
2. Navigate to the Memberships page by clicking Memberships, or the yellow Prodigy icon in the top right corner of your screen.


3. Click "Upgrade" on the membership you'd like to upgrade.
4. Follow the on-screen instructions.
You're all set!
You will only be charged the difference in value between your existing package and the upgraded package when upgrading via your Parent Account.
The same credit card used at the time of subscription will be charged reference your email receipt from support@prodigygame.com if you're unsure which card you subscribed with.
Detailed instructions on how to access your receipt and/or update your card are listed in the FAQ below.
Membership Upgrade FAQ
Can I switch from a Monthly plan to an Annual etc.?
No, our upgrade process does not currently support switching your billing plan.
I have an existing membership - how do I access my Parent Account?
A Parent Account is automatically created for you at the time of subscription using the same email address input at the time of purchase.
For more help, please visit this article (opens a new tab).
I'm receiving an error message during the upgrade, why?
In this case, you may be ineligible to change your current membership package via this process.
Please feel free to contact Prodigy Customer Support via the Submit a request link above and we'd be happy to help!
I don't want to use the same card I subscribed with/where can I find my receipt?

Prodigy receipts are sent via support@prodigygame.com with the subject line "Your Prodigy receipt".
If you'd like to charge a different credit card when upgrading, you would first need to update your credit card via a receipt sent by Prodigy.
Please note, updating your card via the method below will also update your card for any future renewals.


1. Once you've found your email receipt, open the attached PDF and select View & Manage this Subscription.
2. The following page contains the details of your account, select Update Card.
3. You can now update your card information. Click Save New Card Details.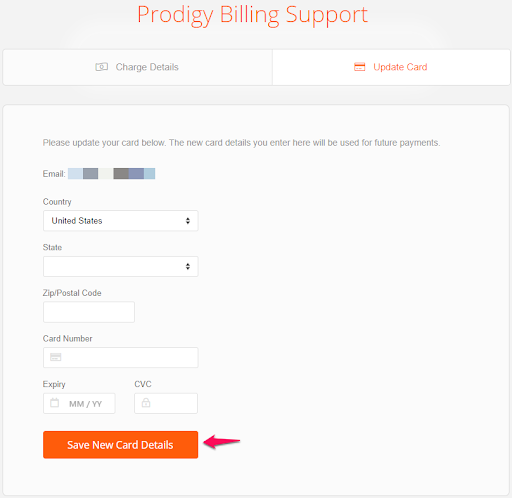 Once you've saved your new card details, return to your Parent Account to process your upgrade!