Once you've purchased a membership using your teacher/parent account,  if you need to apply it to your student/child's account follow the instructions below.
(If you still need to add your student/child's account to your class list, follow the steps here.)
1. Navigate to Prodigy and select the "Login" button at the top right of your browser window,enter in your account details and select "Login".
2. Select your name from the top right corner of the page and then select "memberships".
3. Select "Choose Student".
4. Select the student's name to whom you'd like to apply the membership and select "Save Changes".
If the account you'd like to apply the membership isn't listed, then select the button labelled "Need to add a student? Click here" to get returned to the students page to pair the student account to your own.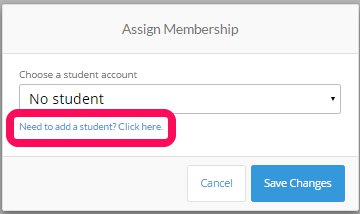 From there, you can follow the instructions in the article linked here to add the student account of your choice. 
That's it! Your student/child now has full membership benefits! We sure hope they enjoy it!