Linking your child's account to your Parent Account allows you to monitor their progress, encourage them with exciting rewards and manage any Memberships you may have purchased under the same email as your account.
By linking your child's account to yours, you can also retrieve their Username and Password if they lose it!

If you don't already have a Parent Account, please follow the steps found in this article: How-to: Create a Parent Account
Instructions
1. Navigate to the Prodigy website and select the Log In button at the top right of the page.
2. Enter your registered Parent Account email address and password to log in.
3a. If your account was recently set up and has yet to link a child, you'll be presented with the following options. Select the appropriate option, then proceed to Step 5.


3b. If you're adding another child to your account, click on your existing child's name in the top left of the screen, then Add child.
3c. If you have more than one child already linked, select Add child.
4. Select Add account under "My child already has an account".

5. Enter your child's Username and Password, then select Add child. If your child signs in with Google or Clever, you'll need to have those credentials handy!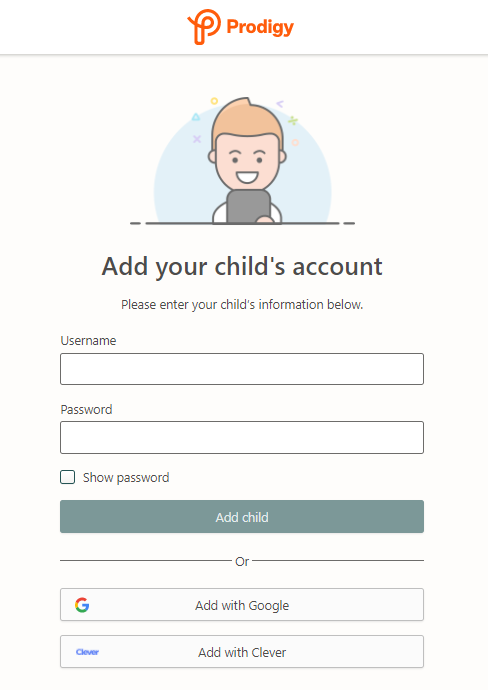 You're all set! Now that your child's account is linked to yours, you can really take advantage of all your Parent Account has to offer.