Each of your Prodigy Math Classrooms has its own unique Dashboard where you can see valuable data on your students at a glance.
For information on the Prodigy English Dashboard, please visit this support article instead.
Once you've logged into your Teacher Account, select the class you'd like to view from the left-hand side to view its' dashboard.
On the Dashboard, you'll see 6 widgets to keep you up to date on how your students are performing in the world of Prodigy!
Here's an overview of the widgets available to you:
1. Questions Answered
An overview of how many questions your class as a whole has answered each day. Hovering over any individual day will show the total questions answered by the class for that day.
Each day is broken into two categories:
School - Any questions answered from 8 AM - 3 PM will be considered answered in class (even if students select "At Home" when logging in)
Home - Any questions answered outside the time above will track under "Home"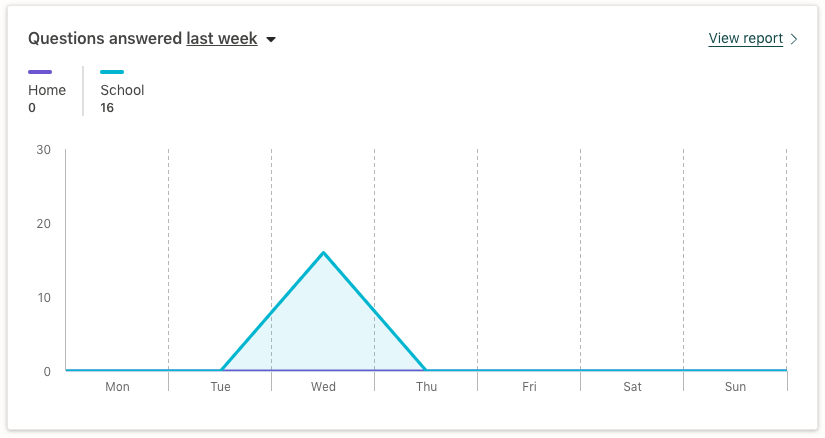 Toggle between statistics from the current week and last week using the drop-down menu in the upper left.
Select the View report button in the bottom right to view the full Student Usage report.
2. Leaderboard
Provides a ranking of your students based on the following parameters:
Number of correct answers out of total questions by your students
Number of questions answered at home by your students
Number of questions answered at school by your students
The following time frames are available via the drop-down menu:
This is a great way to not only find out who's been using Prodigy the most but also to determine who has not been using the program within the selected time frame.
3. Assessments
The assessment calendar allows you to align the content in the game with what you're teaching in class. This widget will allow you to create a new assessment if you don't currently have any, or view any assessments that you've already created.
For more information about assessments, click here.
4. Placement Test Results
When students first play Prodigy, they complete a Placement Test to determine their starting grade level.
This widget shows you the percentage of students with a Placement Test in progress, and the grade level of those who have completed it. You'll also see any students with a Grade Override on their account.
Placement Tests run automatically when students first log in, as well as every January and September.
5. Send Prodigy home
Students can play Prodigy from anywhere, whether they're learning at home or at school!
You can send an email directly to parents from your Dashboard, inviting them to sign up for a free Parent Account, where they can track their child's progress and motivate students to answer more math questions!
Use this widget to invite parents to sign up for Prodigy. When classroom learning is connected with home learning, there's no telling what students can accomplish!
6. Weekly Skill Activity
This chart is organized by the skill name, the number of students that have worked on that skill, and their average performance.
You can toggle between the current and previous weeks using the drop-down menu in the upper left.
To see how your students are performing across all skills, select the View report button in the top right to view the full Student Comprehension report.
Viewing your classrooms' Dashboards regularly is a great way to keep yourself informed of not only what, but how your students are doing in Prodigy. This will help you to make informed decisions about which direction to take for each individual in both the classroom and the lab.