With the introduction of our new game Prodigy English, you may notice some changes to your teacher account.
Some features that you're familiar with for Prodigy Math will not be available as we work to improve the core gameplay experience of Prodigy English.
Most notably, there is no Placement Test for Prodigy English. Content will be presented to your students based on both the grade level of the classroom they are in on Prodigy and how well they're doing with that content in-game.
Just like with Prodigy Math, our adaptive algorithm will adjust the material presented to your students based on their performance. If a student is struggling with a skill in their current grade level, for example, they may be presented a lower-grade level question from a skill that complements the one they are struggling with.
Dashboard
Now that Prodigy supports multiple subjects, classrooms function on your dashboard slightly differently. You will only need one classroom for each group of students, and you can review their progress for each subject accordingly.
Once you log in to your teacher account, you'll notice the new Student Roster, Math and English tabs.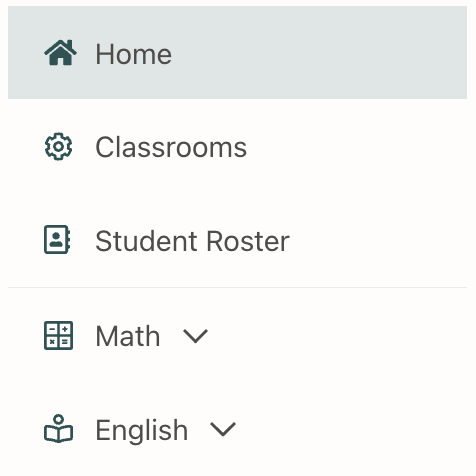 The Student Roster tab allows you to manage your classrooms by adding, removing or moving students in your classroom. You can also view your students' login info here and invite their parents to create an account of their own from the Get parent letters button.
If you have multiple classrooms, you can switch between them by selecting the drop-down menu on the top left of your account.
This drop-down is available to you from both the Math and English tabs should you need to switch between classrooms while reviewing your students' progress.
Each subject allows you to review progress via the Dashboard, Assessments and Reports tab.
Assessments
Teachers can create Assignments for Prodigy English, wherein you choose a set number of questions for the skill(s) you'd like your class to practice in-game, over a set period of time. Plans and Test Prep Assessments are not available for Prodigy English at this time.
Reports
Three reports are available to teachers for Prodigy English: Weekly Activity, Student Usage and Assignments.
The Weekly Activity report provides an overview of all the skills that your students encountered during the course of the selected week. For more information on this report, you can review our article linked here.
Student Usage provides an overview of how many questions your students are answering at Home vs. at School.
Any questions answered between the hours of 8 AM and 4 PM will be tracked to "School" regardless of what option the student selects upon logging into Prodigy.
You can view your Assignment reports for a detailed breakdown of your students' performance on any ongoing or previous assignments.