Prodigy Memberships include powerful perks for parents as well! Each Membership feature is described in detail below.
Please Note:
Perks may vary depending on your Membership Package and apply individually to each child account.
The features below are specific to Prodigy Math. Parent Membership Perks are not available for Prodigy English at this time, but stay tuned for updates!
Focus Mode (Ultimate Members)
Focus Mode is an excellent way to help your child concentrate on answering math questions in Prodigy Math Game.
Parents with an Ultimate Membership can turn on Focus Mode from the Weekly questions answered widget on their Parent Account.
What is Focus Mode?
When you turn on Focus Mode, your child will visit the Tower Town location in-game and use their math skills to build unique towers that represent skill and knowledge growth.
Turning on Focus Mode generally encourages students to answer more questions, as gameplay is limited and socialization is disabled, which helps students concentrate on math uninterrupted!
How to Enable Focus Mode:
1. Log in to your Parent Account and click On from the Weekly questions answered widget on your Dashboard to enable Focus Mode.
2. Have your child log in to Prodigy Math Game and select playing from Home within 15 minutes of turning on Focus Mode.
If they were already logged in, they will need to log out and log back in to trigger Focus Mode.
3. Once enabled, Focus Mode will last for at least 15 minutes, it will remain active until they log out.
4. To exit Focus Mode, your child will need to log out from the settings menu. If you need help logging out, refer to this article.
Goals and Rewards
Setting a goal for your child is a great way to encourage them to practice their math skills in Prodigy Math!
Goals of up to 50 questions answered correctly can be set for students with a Level Up membership, and Ultimate members can have up to 120 correct answers as a goal. Students with an Ultimate membership can also be rewarded with items you choose for them!
Choose from boots, buddies, currency, food, headgear, Morph Marbles, outfits, potions, or two exclusive wands and one exclusive pet!
Rather than selecting Surprise me, simply click Go to rewards list to choose a specific reward as a great way to connect with your child through Prodigy.
How to set a Goal:
1. Select "View progress" under the child that you would like to set a goal for.
2. Select the Goal Progress tab. This tab will show you show you recently completed goals, along with some other useful details on goals.
3. Click on Set goal, then choose the number of questions that you would like your child to complete.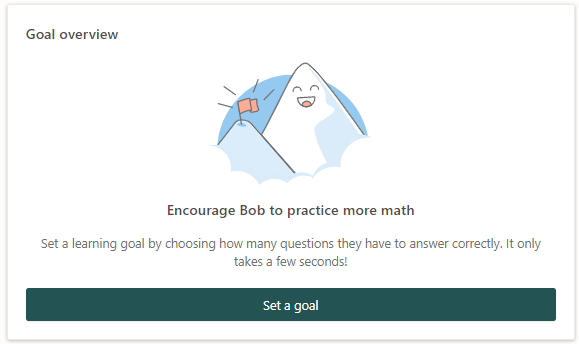 Your child will receive a notification of their goal in their mailbox after you have set a goal. To view their progress during this time, just come back to the Goal Page!
You may have noticed you can also set a goal, edit an existing one, and send a reward right from your Parent Dashboard.
Simply select the appropriate option listed under the "Goal overview' section!
How do reward my child once they've completed their goal?
When your child completes a goal, you will receive an email notification that their reward is ready. This should show the goal amount and display the child's name.
You can also return to your Parent Dashboard by logging in to send the reward.
How do I log in to my Parent Account?
Your child will receive an in-game mailer with the reward! Why not encourage them by setting another?
Curriculum Coverage
The Curriculum Coverage tab allows you to see how your child is doing on their journey to master skills within Prodigy Math.
Select the grade level you'd like to look at your child's progress for from the drop-down at the top of the screen, and you'll be presented with the list of topics covered on Prodigy Math.
Each grade has associated Topic Badges, and each topic has multiple skills which correspond with in-game badges your child earns upon mastering skills under each topic.
Generally, to master a skill a student must answer 7 questions correctly in a row within that specific skill.
The number of correct answers required may change if a student answers one or more questions incorrectly along the way.
Comparison Insights
The Comparison Insights tab will show you how your child's monthly progress on Prodigy Math compares to that of their peers.
Peers are those students who are aligned to the same curriculum as your child, and in the same grade level (based on either the classroom they are in on Prodigy or the grade selected for their account).
Here, you can review your child's activity and achievements for the three-month reporting period. Activity includes things like the number of questions attempted, the percentage of correct answers as well as the total time spent doing math.
If you'd like to encourage your child to spend more time answering questions on Prodigy Math, setting goals and using Focus Mode are excellent tools to do just that!

Achievements include the progress your child made towards mastering skills in their current curriculum, with a specific breakdown of areas they may need help with. If you find your child is struggling with a given topic, why not reference a practice sheet or video lesson to help them out?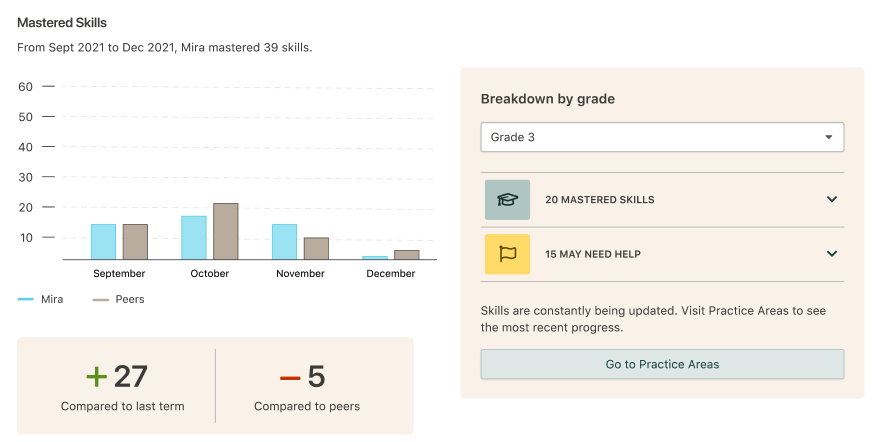 Practice Areas
Practice Areas is a Membership feature that allows you to see which areas your child may be struggling with in Prodigy Math along with what they are currently working on and what they have mastered.
You can see all of these areas when you are in the 'Practice Area' section.
May Need Help
This section highlights concepts that your child has encountered on Prodigy that they may have trouble understanding. It can take some time before a skill populates under this area.
The game will automatically give your child a chance to revisit some of the basics around these concepts.
Each area can be expanded to show an example question, as well as the answer by checking the box in the bottom right corner.
Practicing
This section will highlight examples of questions that your child is practicing. Based on their progress the game may show a variety of questions across grade levels.
Each area can be expanded to show an example question, as well as the correct answer by checking the Show answer box.
Mastered
This section will show examples of questions that your child has practiced enough to show they understand the core math concepts. Mastery is reached when seven questions are answered correctly, in a row, from a given skill.
Your child's curriculum coverage percentage will increase with every skill mastered!
Each area can be expanded to show an example question, as well as the correct answer by checking the Show answer box.
Practice Sheets
Practice Sheets gives parents a way to extend the learning and educational value of our product offline by providing the ability to print out custom worksheets for each Math skill their child is or struggling with.
At this time, worksheets are only available for skills labelled under 'May Need Help'.
Worksheets feature questions tailored to each child based on their curriculum and grade level and will feature 7-10 questions per set of worksheets generated, based on a certain skill or topic of varying difficulty.
Access the worksheets from the 'Practice Area' section, under 'May Need Help'.
How to access your worksheets
This section will highlight where your child may have trouble understanding the concepts they've encountered in the game. It may take some time before these move out of 'May Need Help' as they answer more questions correctly.
Generating the Practice Sheets will give your child the opportunity to revisit some of these concepts offline, and outside of the game.
Each area that your child may need assistance in will have the option to generate the practice sheets.
What is provided?
When you have selected the area you would like to focus on, you will receive a summary of what will be printed off. This will provide approximately 10 sample questions as well as an answer key so that you can check your child's work.
Click on 'OK, generate the Practice Sheets' to move to the next step.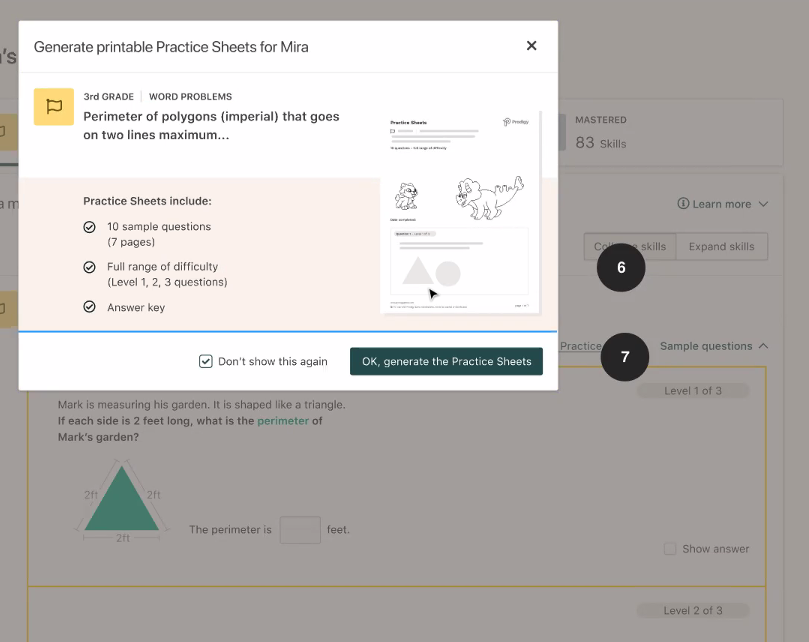 Each area can be expanded to show an example question, as well as the answer by checking the box in the bottom right corner.
How do I download and print my worksheets?
When you have decided on the areas in which you'd like to focus on, you will be given the option to download the PDF directly, or to open the PDF file in a new browser window.
After either of these tasks has been completed, you can print them off.
Video Lessons
Video lessons can help guide your child through skills they may need help with. Within each skill under this area, you'll have the option to watch a video lesson.