Prodigy offers a 25% discount on purchases of 2+ Memberships on the same billing cycle.
Let us walk you through the process!
Instructions
1. Navigate to Prodigy's Membership page linked here. If you've already registered a Parent Account with us, please follow the process outlined in this article.
2. Select Buy Membership
3. Choose your product Prodigy Math or Prodigy English.
4. Choose your package and billing cycle.

5. Choose who will get a membership by selecting Assign membership. This will prompt you to input your child's account information and apply their membership right away!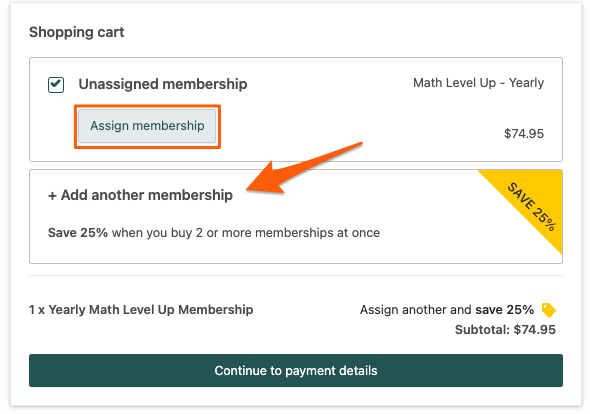 6. Select +Add another membership and repeat step 5 to apply the 25% discount.
If you'd like to apply the memberships later, select Continue to payment details.
7. Input your payment details and select Continue to review purchase.
8. After reviewing your purchase, click Complete purchase.
You're all set to go! Your Memberships will be active as soon as the payment is complete.
If you're having trouble with payment, please refer to this article: Accepted Forms of Payment