Want to see how your child is progressing while playing Prodigy? Then look no further than the parent dashboard, giving you an overview of your child's usage. Here's how to find it and what information is available. 
To access your parent dashboard for one of your children, take the following steps: 
1. Go to www.prodigygame.com and select "Login" from the top right of the page. 
2. Enter in your email address and password for your account and select "Login".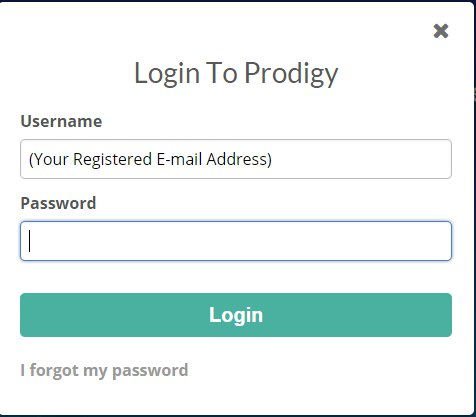 3. From your "My Kids" page, click the "View Progress" button under the name that you'd like to view progress for. 
4. You'll now be presented with your parent dashboard for that child's account. 
Here's what you'll see on this page: 
1. Child's information - Here you can view: their name, last sign in date, and the grade level they're currently working at. 
2. Account details/Reports - Selecting these buttons will allow you to view and edit the details of your child's account (Name, password, grade level) and view their reports respectively. To learn more about the reports available to you, click here.
3. Topic Overview (weekly) - This widget allows you to view the content that your child has worked on, how many questions answered, at what grade level and their overall performance on that content week by week. The individual weeks can be toggled using the arrows on either side of the "today" button at the top right of the widget. At any time, you can return to the current week by selecting the "today" button. 
4. Questions answered (weekly) - This widget allows you to view how many questions were answered correctly/attempted for the current week and one week prior. Toggle between weeks using the drop down menu at the top of the widget. 
5. Grade Mastery (Not listed on diagram) - This widget allows you view how far your child has progressed through the grade level content for each grade at a glance. 
Review your parent dashboard from time to time to get a sense of how your child is doing, where they might need a bit of help and when to celebrate their success!