Please Note
For security purposes, Customer Support Agents are not able to provide student login credentials. If the process below does not work for you, please contact your child's teacher.
Has your child forgotten their username or password?
If your child's account is paired to your Parent Account, you can retrieve their username/password using your Parent Account.
If you are a teacher looking to retrieve a student's login, visit this article instead.
Instructions:
1. Go to Prodigy and select "Log in" from the top right portion of the page.
2. Log in to your Parent Account using your registered e-mail address and password.
Don't remember your password? Select Forgot Your Password to reset and login.
3a. From your Dashboard, select your child's name in the top-right corner, then Manage Child.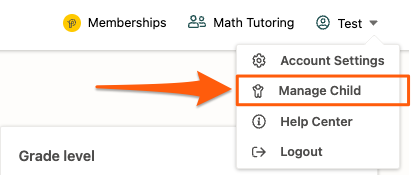 3b. If you have multiple children, you can select Manage from their account card. My children will appear from the drop-down mentioned above, which will take you to their cards.
5. Your child's username and password will be displayed on the Manage child screen.
If the password field is empty, the account was created with one of our SSO partners (Google, Clever) and they will need to log in with those credentials.
If their password can't be displayed or for any other reason you need to reset their password, the article linked here will explain how to do so.