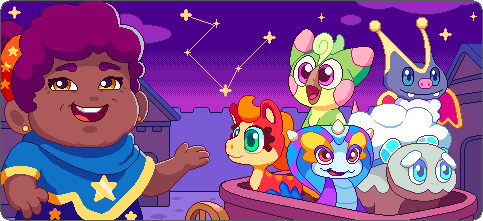 Currency: Star Shards
Throughout the event, you can earn Star Shards by:
Battling monsters (these arrive as random battle rewards).
Find a fallen star in Lamplight Town daily for a chance to do battle for more Star Shards! (Only available during the time of the event, when playing from Home).
Pets
| Name | Picture | Member Locked |
| --- | --- | --- |
| Charfoal | | |
| Sproot | | |
| Wott | | |
| Mermina | | |
| Snowfluff | | |
Wands
| Name | Picture | Member Locked |
| --- | --- | --- |
| Aries Star Wand | | |
| Taurus Star Wand | | |
| Gemini Star Wand | | |
| Cancer Star Wand | | |
| Leo Star Wand | | |
| Virgo Star Wand | | |
| Libra Star Wand | | |
| Scorpio Star Wand | | |
| Sagittarius Star Wand | | |
| Capricorn Star Wand | | |
| Aquarius Star Wand | | |
| Pisces Star Wand | | |
Hats
| Name | Picture | Member Locked |
| --- | --- | --- |
| Star Shower Splendor | | |
| Starlight Shades | | |
| Star Head | | |
Outfits
| Name | Picture | Member Locked |
| --- | --- | --- |
| Starlight Gown | | |
| Starlight Tuxedo | | |
Buddies
| Name | Picture | Member Locked |
| --- | --- | --- |
| Ursa Minor | | |
House Items
| Name | Picture | Member Locked |
| --- | --- | --- |
| Milky Way Plush | | |
| Starlight Side Table | | |
| Star Suite Bed | | |
| Starlight Rug | | |
| Star Seat | | |
| Star Jar | | |
| Starlight Lamp | | |
| Standing Lantern | | |
| Star Topiary | | |
| Starlight Stool | | |
| Night Bed | | |
| Moon Plushie | | |
| Starlight Dining Table | | |