When you first log in to the game, you'll be asked to "Play at Home" or "Play at School".
Even if your characters are in the same classroom, they may not be able to see each other. They should be able to meet up in the game still if they log in to the same world, but this also depends on the population of the server at the time. If there is a high population, they may be invisible to each other, as only a certain amount of players are displayed on the screen at the same time based on server and local system load.
Play at School
If you choose "Play at School", you will be matched up with all of your classmates, and not have to choose a specific world to play in.
Play at Home
If you choose "Play at Home" you will be able to choose your world manually. You can choose the same world as your friends so that you can play Prodigy together.
Play Offline
If you prefer to play offline, you must select the "Play at Home" option first when you log in, then you have the option to select the "Play Offline" button at the bottom right of the page.
If you have chosen the "At Home" option, you will be able to choose the world that you play in. This will provide you with the option to meet up with friends in Prodigy!
While the player is "offline" this means they are not in a server populated by other players. Their progress will still report to any linked Parent/Teacher accounts.
Recommended Worlds
You will be shown 6 recommended worlds to begin with. These will show the best choices for your wizard based on population and performance.
Choose Your World
If you'd like to explore other worlds, then you can select the "More Worlds" menu at the bottom left portion of the screen.
See the image below which illustrates how to open the "More Worlds" menu: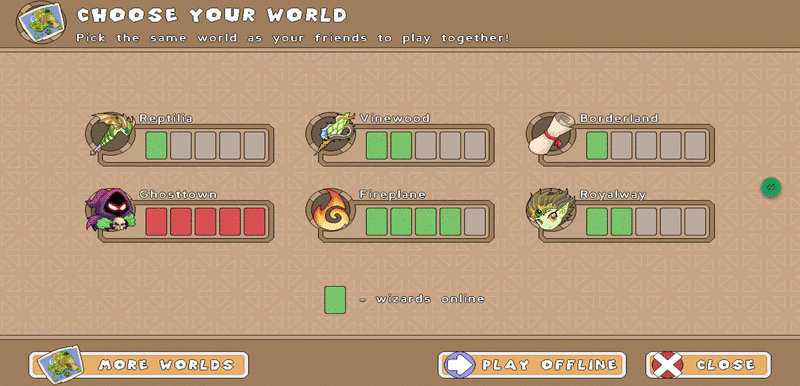 From this menu, you can use the arrows on the left to navigate through all of the different worlds. The number of people currently in the world will be indicated by a bar that fills up next to the world's icon. Once a world is 100% full, you'll be unable to join it.
What World Am I In?
If you're playing the game and want to tell your friends what world you're a part of but can't remember, open the Settings menu (Gear Icon), then click World.
If you want to join a new world, then you'll need to log out and back in again.
That's it! Get out into your Prodigy world and meet your fellow wizards!