Within your Parent Account, you can view your child's overall completion progress for a specific grade by viewing the Curriculum Progress Graph, pictured below.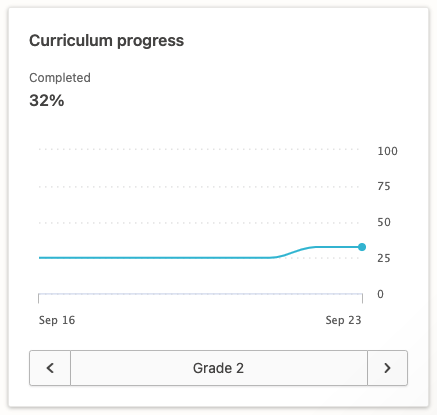 Please Note:
Curriculum progress is divided by each subject. Make sure you're viewing progress for the right subject, either Math or English!
The percentage shown on this graph is based on the number of skills a student has mastered within the selected grade level, not the number of questions they answer in total. Since the completion of a grade level in Prodigy is dependent on mastery of skills, the percentage of grade-level completion will increase (or decrease) in alignment with the mastery shown by each individual student.
For example, if there are 100 total skills within your selected Grade 2 curriculum, each mastered skill will account for 1% completion of Grade 2.
Generally, to master a skill a student must answer 7 questions correctly in a row within that specific skill. The number of correct answers required may change if a student answers one or more questions incorrectly along the way.
If progress stops on your child's account despite mastery of new skills, please check if the student's teacher has created an Assignment, Class Plan, or Test Prep for them via the Classroom Learning tab. If a student has skills they have already mastered assigned by their teacher, grade level progression will stop until the student completes the assigned questions and/or moves on to another skill.
Why has my child's progress decreased?
Grade-level progress may decrease if a student begins to struggle with a skill.
Prodigy's adaptive algorithm will provide students with review questions, allowing them to review and repeat prerequisite skills before presenting more challenging content again.
For example, if a student begins to struggle with "Perimeter Word Problems", the prerequisite "Perimeter Application" skill may be presented to them. Previously mastered skills in need of review will not count towards the total grade level percentage and can be visualized by an overall decrease on the graph.
Furthermore, Prodigy's Education Team is constantly updating the curricula we support. This means that at times, new skills are added to a certain curriculum which may also result in an overall decrease in curriculum progress percentage.
Prodigy's algorithm helps to ensure students maintain a firm understanding of concepts by providing prerequisite skills if they haven't been practiced in a while. As these skills may be considered in need of review, parents may notice an overall decrease in grade-level percentage following a period of inactivity.
To help every child love learning, Prodigy's algorithm is always working hard to ensure students receive a variety of math content appropriate for their level. If you have any questions about your child's educational progression in Prodigy, please contact our Customer Support team by clicking Submit a request at the top of this page!