Are you ready for a new kind of quest? Want to help capture and defeat monsters and earn exclusive rewards? Visit the Bounty Board and become a monster hunter today!
Visit "Boardy" in the Town Square in Lamplight Town, next to the Arena, and click on the Bounty Board to start your career as a monster bounty hunter!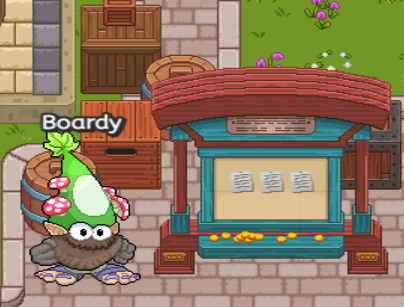 Once you've clicked on the Board, you'll be presented with 3 Bounty Notes. Each has a description of the monster you need to find, and where you can find them! Bounty Notes are updated every day.
Bounty Notes come in 3 different levels, indicated in the top-left of the Note.
1 (for non-members)
3 and 5 (members only)
To get started, select "Accept Bounty"! Completing a bounty will earn you either 1, 3 or 5 bounty points depending on the level on the bounty note.
Important to note:
You can have a maximum of 3 active bounties at a time.
They'll remain on your bounty list until you complete them. You don't need to complete them all in a single day.
You can complete a maximum of 3 bounties in a single day.
Get Started Completing Your Bounties:
Open the awards menu to take a look at your current bounties list:
Within the Awards Menu:
When you arrive at the area indicated in the Bounty Note, the monster you're looking for will be indicated. Challenge them to complete the bounty.
If you're successful in defeating or capturing the indicated monster, you'll complete the bounty!
Didn't win the battle the first time? Don't worry! You can attempt the bounty as many times as you want in order to complete it.
Once you have completed the bounty, return to "Boardy" in Lamplight Market to receive your reward and get a new bounty!
For every completed bounty you'll earn bounty points. Earn bounty points to unlock cool rewards from the bounty shop!
At bounty levels 5, 20, 50 and 100 you'll unlock new and amazing rewards to purchase!
You can accept a maximum of 3 bounties a day. When one is accepted and completed it will be locked for the rest of the day.