Each of your classes has its own unique dashboard populated with the data from the students that are a part of it!
Once you've logged into your teacher/parent account, select the class you'd like to view and you'll be taken directly to your class' dashboard.
Your dashboard comes complete with 6 widgets to keep you up to date on how your students are performing in the world of Prodigy
Here's an overview of the widgets available to you:
1. Questions Answered
This widget will give you an overview of how many questions your class as a whole has answered broken down by day and time of day. Hovering your mouse cursor over any individual day in the graph will give you total questions answered by the class for that day. Each day is broken into two categories:
In class

- Any questions answered from 8AM - 3PM will be considered answered in class

At home

- Any questions answered from 3PM - 8AM will be considered answered at home.
You can also toggle between statistics from the current week and last week using the drop down menu in the upper left.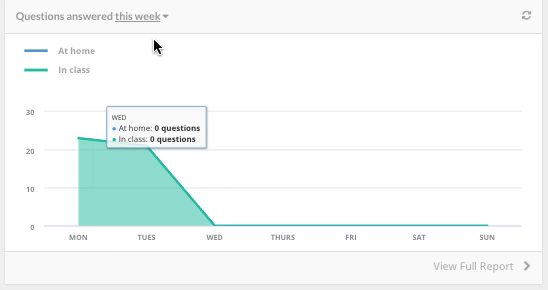 Click the "View Full Report" button in the bottom right to view the comprehensive "Student Usage" report.
2. Top Students
This widget is designed to provide you with an overview of the number of questions correct out of total questions answered by your students/child within the selected time frame. You can select from the following time frames from the drop down menu:
Today
Yesterday
This Week
Last Week
You can cycle through all of your students using the navigational arrows on the bottom right.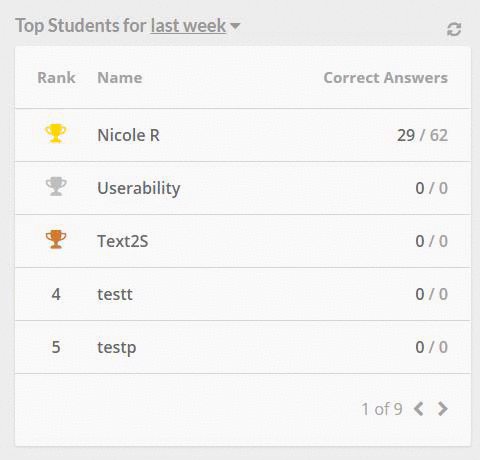 This is a great way to not only find out who's been using Prodigy the most, but also to determine who has not been using the program within the selected time frame.
3. Assessments
The assessment calendar is a feature that that allows you to align the content in the game with what your teaching in class. This widget will allow you to create a new asssessment if you don't currently have any or view your assessments if you've already created them.
For more information about assessments, click here.
4. Placement Test Results
When students first play Prodigy, they complete a placement test to determine their starting grade level. This widget shows you which percentage of your class are currently within the placement test and for those that have completed it, which grade level your students were placed in. You can view which students fall into which category by hovering over the relevant portions of the chart.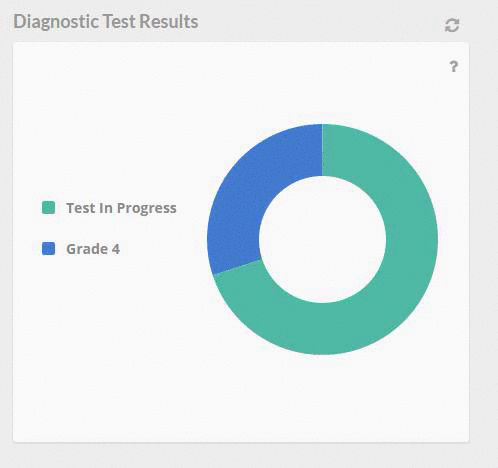 5. Referrals
Referrals allow you to share Prodigy with friends and colleagues over social networks or through email. Doing so can earn you free memberships! Use this widget to visit your referrals page where you can share your link, view who's registered using it, and your progress towards a free membership!
6. Weekly Skill Activity
This widget shows you the areas that your students are working on. The chart is organized by the skill name, the number of students that have worked on that skill, and their average grade. Similar to the questions answered widget, you can toggle between the current and previous week's dates using the drop down menu in the upper left.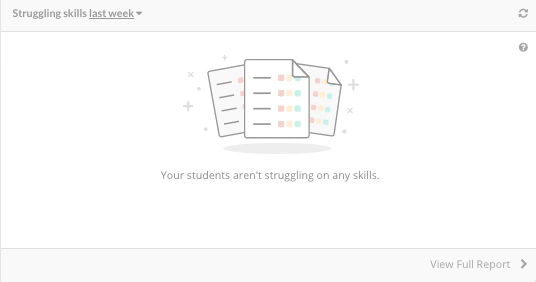 To see how your students are fairing in which skills, select the "View Full Report" button in the bottom right to view the comprehensive "Student Activity Report".
Viewing the dashboard on a regular basis is a great way to keep yourself appraised of not only what, but how your students are doing in Prodigy. This will help you to make informed decisions about which direction to take for each individual in both the classroom and the lab.