Creating a new class list from your Teacher Account is simple! Watch the video below for a walkthrough, or follow the steps in this article.
1. After logging in to your Teacher Account, navigate to the Classrooms tab from the sidebar.
2. Select the Create new class button. You also have the option to Import from Google Classroom or Sync with Clever if your students' accounts are managed there!

If your students are playing Prodigy for the first time, you can use your unique class code to have them register as a part of your class automatically.
The article linked here explains class codes and how to use them with your students to register as a part of your class while creating their new accounts.
3. Give your class a name and select the appropriate grade for the students you intend to add.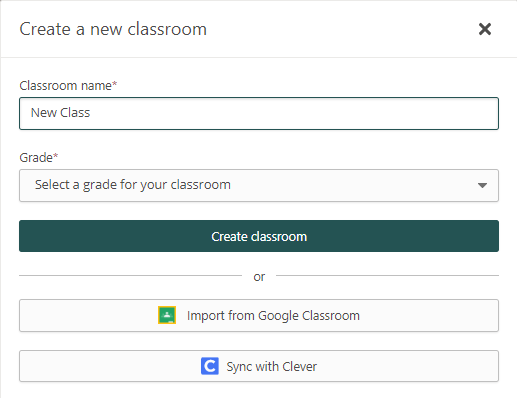 3. Select Create classroom.
4. Make note of your class code. This will be listed under each class name on the Classrooms tab.
Please Note:
Classrooms created with Clever will not use a class code. All rostering changes (adding/removing students) must be made through Clever first, then select Sync with Clever from your Prodigy Teacher Account.
If your students already have a Prodigy account or need to create one, they can be added to your Classroom via your Class Code. Visit our support article linked here for more information.